Brunei seems to be an underrated destination and is often less sought-after than neighbouring countries. Truth is, the small city state is incredibly rich in cultural value, heritage and natural wonders. Check out the following list and make sure nothing is missed out on your trip to the tiny nation.
1. Visit the majestic Sultan Omar Ali Saifuddin Mosque
Roam around Bandar Seri Begawan, and a mighty and lavish mosque with its golden dome will soon catch your attention.
The Sultan Omar Ali Saifuddin Mosque is considered to be the most beautiful mosque in Southeast Asia, and is located in Kampong Ayer, surrounded by an artificial lagoon with greeneries and palm trees.
The marble-walled and floored mosque emanates such a glorious vibe even from afar, and the inner side is equally impressive with all the intricate carvings.
However, take note that it can only be accessed at specific timing and visitors must always follow the house rules. With its grand architecture and the surrounding landscape, this mosque becomes a sight you cannot miss in Bandar.
2. Discover more about Brunei in Royal Regalia Museum
Brunei is an interesting country with her absolute monarchy and there is no better place than Royal Regalia Museum to get to know the Brunei Sultan, a person that is respected by all Bruneian.
The museum hosts vast collections to mark important events of the Sultan's life, from the upbringing to his marriage, and a huge display of opulent gifts and presents given to him.
Among the impressive exhibits is the replica of the Sultan's silver jubilee in 1992, which might be the one that draws most attention since it is in life-size. Unfortunately, no camera is allowed, so you can only look around for all you want before leaving the museum.
3. Ride a water taxi through Kampong Ayer
In local language, 'kampong' means village and 'ayer' means water, and these two word pretty much describe what this place is all about.
Floating on the banks of Brunei River, Kampong Ayer is acknowledged as the largest stilt settlement in the world with over 30,000 people living here.
The village is very much self-contained with its own school, mosques, police station, and most importantly, electricity and clean water supplies.
You can easily get here by hiring a water taxi, and be sure to visit the cultural and tourism gallery to get a bit more information about the village, and then wander around the streets and bridges on your feet to see the life of the locals which surprisingly look as normal as those on dry land.
4. G0 wild in Ulu Temburong National Park
Located on the northern coast of Borneo, the rainforest is one highly prized natural asset possessed by the tiny nation. Ulu Temburong National Park is a protected area in Brunei, with only one out of 550 square kilometers of the rainforest open to the public.
This park can only be reached by a connection of boat and bus rides, with the most attractive feature being the canopy walk where you can look out afar from almost the top of the rainforest.
Apart from hiking up the natural path, there are also a series of stairs amidst the green foliage, and you can dip your feet in a pond underneath the waterfall where little fishes will nibble on your feet, giving you a free fish spa after a tired day.
Search & Compare Hotel Prices in Brunei Now!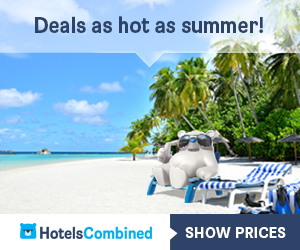 5. See the adorable proboscis monkey
Proboscis monkey is rather unique with a long nose and large belly that makes them different from other species of monkey. They are native to the island of Borneo, so you will really have to meet them while you are here.
There are many tour operators offering a day tour along the Brunei River, with the experienced tour guides knowing exactly where to stop the boat, allowing you to watch the monkeys in their most natural form.
Another option is to go directly to the waterfront and hire a water taxi, telling them you want to see the monkeys. The only problem is that some water taxi drivers might not be able to speak English that well.
6. Trek and relax in Tasek Lama
A park in the middle of a city is always a refreshing sight for both locals and tourists. Moreover, if the park has a waterfall, what could be better?
Tasek Lama Recreational Park lies just a few steps away from the city center, with its lush greenery giving out a serene and relaxing atmosphere. With several jogging and trekking trails and also some work out facilities, the Park makes a perfect place to unwind and exercise after a hectic day.
On weekends, it will inevitably become a recreational hotspot for families, either for a picnic or simply to enjoy the waterfalls and garden. Whatever purpose you may have, visiting this park is a must and you will not regret you did.
7. Observe local life in a riverside market
Among many markets in Brunei, Tamu Kianggeh is the famous one among tourists, probably because of its location on the banks of Kianggeh River.
Because of that, this market is mostly visited by the residents of Kampong Ayer coming by boat. You can find almost anything in Tamu Kianggeh, from fresh produce such as fruits, vegetables, herbal medicine and local street foods.
The market is usually busy in the morning with locals doing their daily grocery shopping, and that can be a great chance for you to observe the local scene up close. As a traditional market, Tamu Kianggeh is considerably clean and well-organized, hence you can stroll around comfortably.
8. Sample local foods in Tamu Selera
If you are on a budget but want to try the local food as much as you can, then Tamu Selera is the answer.
It is a hawker center that is opened only in the evening, and provides a great selection of not only local foods, but also from neighboring countries such as Indonesia and Malaysia at a cheap price.
Consisting of several stalls in one convenient place, you can find all sorts of food like fried rice, grilled chicken, fresh seafood and many more.
It is a humble eatery without anything fancy, but the food is undeniably good. The most authentic taste of local food usually comes from this type of places and that is why you have to eat in Tamu Selera.
9. Go picnic at Muara Beach
A popular weekend getaway voted by locals is the Muara Beach, a long stretch of sandy beach fully equipped with picnic facilities and can be easily reached from Bandar Seri Begawan.
Being a well-maintained recreation venue, it also comes with changing rooms and toilets, and there will also be food and beverage stalls as well during the weekends when it gets more crowded.
Try to go on weekdays for a peaceful escape, and stroll along the esplanade while enjoying the expansive ocean view.
Share you thoughts. Ask a question.