Macau is famous for the many casinos but there is definitely more than just that, and there are many exceptional and popular spots that you can easily spend some times on. Read on and find out what are on our list and make sure to visit them when you have a chance.
1. Ruins of St. Paul's
This famous landmark used to be the biggest Catholic Church in East Asia back in 1637, after a reconstruction for damages caused by fire earlier in 1595 and 1601. However, the glory of could not last forever as a typhoon in 1835 caused another fire, leaving behind only what it is left now. Built fully with granites, it still leave a pretentious feeling on what the church used to have.
The façade has 4 tiers in its structure with a gable topped with a cross, and each tier comes with different ornament and design but as a whole, they represents the Catholic beliefs through symbols, statues and reliefs alongside with Chinese traditional ornaments.
Its magnificent detail with Baroque design will leave you breathless, and beside the front façade, there is also a staircase leading to the basement which houses a museum, while the upper level offers you the view of the cityscape of Macau from the back of the ruin.
2. The Venetian Macao
The Venetian Macao is one big attraction itself that tourists visit in beside playing in a casino. A luxury hotel, casino, shopping malls and entertainment center under one roof, its grandeur Italy-inspired design is truly remarkable that makes it hard to miss.
Featuring a Venice concept, you can find gondolas, canals and street-like shopping aisles inside this massive complex that will make you forget you are still in Macau.
Italian paintings, street lamps and sculptures scattered around the area that has a painted sky that looks just so real and splendid. Apart from the awesome design, it is also undoubtedly a shopping paradise with lots of international brands available here.
If shopping is not your thing, you can go for a romantic gondola ride with serenading gondoliers, while you can also find a wide array of food available in a vast food court that will definitely satisfy both your eyes and tummy. If you're a gambler, playing in the casino is a must to experience a high-end casino.
3. Fisherman's Wharf
Situated almost right next to the Ferry Terminal, visiting this place surely will not cause you a bit of a hassle. The Fisherman's Wharf is actually a theme park. However, it has a limited choice of rides so get your camera ready instead to snap some great pictures.
The theme park can be divided into 3 sections in general, which are the Dynasty Wharf, East Meets West and Legend Wharf, and each section got its own distinct design contributing to its theme.
Dynasty Wharf is more to the Chinese style, and East Meets West features the famous Roman Amphitheatre, man-made volcano, an imitation of the Colosseum and other western-influenced building architecture.
Legend Wharf is for recreational purpose and the architecture here are rather unique and fancy in their own way. Some of the buildings are actually shops, so you might also want to take a look inside and see if anything catches your interest.
There are also some restaurants here, and one good thing is that this place hardly gets crowded so you can really enjoy a peaceful stroll around the impressive composite.
4. Senado Square
Located in the central area of Macau Peninsula and measuring some 3,700 sqm, the Senado Square is the largest public square that is one of must-visit places in Macau.
With the buildings on both side of the narrowing alley showing strong Portuguese influences in its façade, the Square is a fantastic place to just stroll around on the street that are paved with wave-patterned mosaic black and white stones. Listed as a UNESCO Heritage Site, all the buildings are also not allowed to change its façade.
Along the narrowing alley there are several souvenir shops and local food stalls casually luring you in, and this alley will actually lead you to the famous Ruins of St. Paul's so you might want to put these two wonderful places together in your itinerary.
The charming St. Domingo's church in the Square area also adds another reason for you to visit.
Search & Compare Hotel Prices in Macau Now!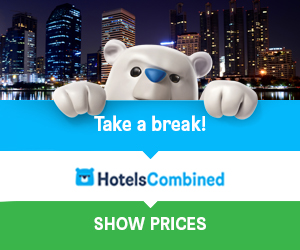 5. Macau Tower
Standing at 338 metre from the ground it is impossible for you not to notice the Macau Tower during your course in Macau. With a stunning bird-eye view over island at a height of 223 metre, its observation deck lets you enjoy the cityscape and skyline of Macau, but there are more than just that.
The Tower also serves as a conference, shopping, dining and entertainment venue. Moreover, it also offers an adrenaline-pumping option that is none other than bungee jumping.
This is not the ordinary bungee jumping experience but the highest in the world. If jumping of the tower is too nerve-wracking for you, they also have the sky walking that would be less frightening but still enough to rise up your adrenaline.
Some other choice includes mast climb, which allows you to climb up to the top of Macau Tower. The restaurant here is also no exception, with it being on a revolving platform serving you a great food with such a panoramic view.
Share you thoughts. Ask a question.