Being the largest city in Myanmar, Yangon holds an unbelievably abundance of treasures with both historical and religious value, and they are made visible through relics, pagodas, palaces and statues across the city. Visiting Yangon would not be not be complete without exploring these treasures, so read on for the top five recommended destinations that are definitely the must-visits.
1. Shwedagon Pagoda
It is impossible to visit the city without noticing the Pagoda. Not only because it is arguably the most famous landmark there, but also because of its majestic architecture standing tall in the middle of Yangon.
During the day its gleaming golden exterior will surely catch your sight under Yangon's intense sunlight, and comes evening it will dazzle even more due to the abundant lighting surrounding the pagoda. More jaw dropping is the fact that the pagoda is actually covered with real gold plates and diamonds encrusting the top of the main stupa, making it an architectural master-piece.
The 2,500 years old Pagoda is one prominent religious place, believed to enshrine Buddha's hair and other holy relics. You will see monks and devotees going around the pagoda praying and worshipping, with numerous temples, stupas and statues within the massive compound surrounding the pagoda. They are all located on the same level as the pagoda that can be reached through four different entrances in four different directions.
2. Sule Pagoda
Another important landmark for the Burmese is the Sule Pagoda located right in the heart of Yangon downtown. Surrounded by the bustling city, circular row of shops enclosed the pagoda from the outside, and although the size is relatively small with a height of 46 m, the quirky octagonal shaped statue makes it stands out from far.
Like any pagoda in Yangon, Sule Pagoda also holds religious significance, said to be built around 2,500 years ago and enshrine the Buddha's hair relic as well. This makes it one of the places where monks and devotees come to make offering and prayers.
It has four entrances leading from the main road outside, and even if you are not here to pray, you can enjoy its artistic relics, statues and shrines, while feeding pigeons on the Sule ground is believed as an act to earn merit by the locals.
3. Botahtaung Pagoda
Another pagoda? Wait, do not just skip this as it is unlike any other pagoda you have seen so far. Yangon surely has got a lot of pagodas but each one of them has their own unique feature.
Botahtaung pagoda, located in Yangon riverbank, has its unique feature in the main stupa. While most stupas are solid and closed to public, the main stupa here is hollowed inside and visitors are allowed to come in. Inside the stupa you will find a mirrored-maze walkway leading visitors to several chambers, and each of them displays Buddhist artifacts and relics within a glass show case.
There is also the sacred Buddha's hair relics enshrined here, and it turns out that there were eight Buddha's hair relics brought from India about 2,000 years ago but were later distributed to other pagodas. Botahtaung means 1,000 military leaders, referring to the same that was formed to pay respect in welcoming the relics to Yangon.
According to the legend, the gold covered Botahtaung Pagoda was built in the same period as the Shwedagon and Sule Pagoda, so it is also estimated to be around 2,500 years old.
4. Kandawgyi Lake
Constructed as a reservoir back in the colonial era, Kandawgyi Lake remains well preserved till today and is becoming an ideal place for a short escape from the city life as it feels like a paradise in the middle of Yangon.
The vast lake is surrounded by greeneries with the grandeur view of Shwedagon Pagoda reflected on its water, while featuring a boardwalk on its southern and western end which makes it perfect for an evening stroll or a morning jog.
The eastern side of the lake is the Kandawgyi Garden or Kandawgyi Nature Park that hosts the remarkable Karaweik Palace, which is a royal barge reproduced by the government in the form of karaweik(mythical bird). It is a magnificent looking boat used as transportation for delivering Buddhist Scriptures or regal missive to distant places, and just from the structure of the barge itself can already tell you a lot about the Burmese art and history.
At the present time, this Karaweik Palace serves as a conference room and holds traditional Burmese entertainment, arts and handicrafts exhibition as well. There are also some lakeside cafes around the lake that makes it also a perfect place to enjoy a drink over sunset.
Search & Compare Hotel Prices in Yangon Now!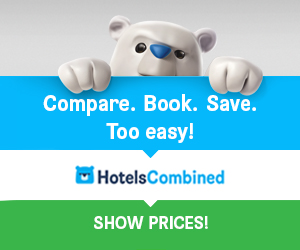 5. Chauk Htat Gyi Reclining Buddha
Reclining Buddha is always a familiar attraction in Buddhist-majority countries such as Thailand and Laos, and although Myanmar is no exception, one impressive giant reclining Buddha you will find here is unlike what you have seen in other countries.
The Chauk Htat Gyi Reclining Buddha is really huge at approximately 66 metre in length and 18 metre in height, and this time it is not all golden but rather in vibrant and eye-catching colours. The Buddha's face is bright white with red lips and blue eye shadow, and on its soles are 108 segments in red and gold containing 108 auspicious characteristics of Buddha.
The colorful and detailed structure is what makes people come to this place, and the contrast between the grand statue and the metal-roofed shed with an open sided steel structure sheltering it is also something interesting to look at.
Despite it being famous as a tourist attraction in Yangon, the atmosphere is really peaceful and calm with people praying or meditating around the compound.
Share you thoughts. Ask a question.